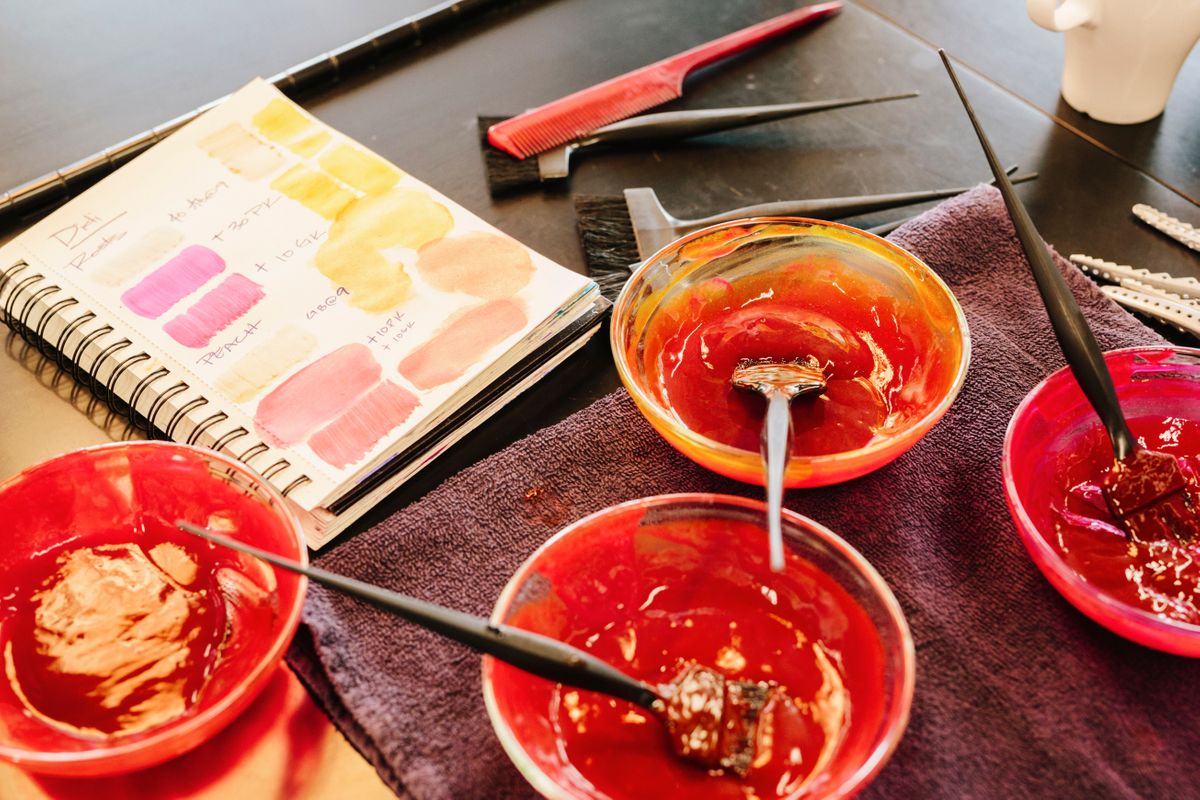 Happiness. Prosperity. Community. We believe that you should love where you work. We foster a happy work environment every day, with everything we do. It is of the utmost importance that our team has a safe place to grow and be happy every day they come to work.
Hair's Inn is a teaching salon. We offer an associate program which we consider the equivalent to a master's degree in the industry. We are dedicated to continued education for our experienced stylists, including traveling to the Redken exchange in New York for classes.
Are you an experienced stylist who is positive, loves education, and wants to grow with a supportive team? We are looking for you! We are Hair's Inn, a high-level, goal-oriented salon company located in the Almaden Valley area.
Does providing amazing customer service make you smile? Love to multi-task and stay busy? Do you love people? We are now accepting applications for our Guest Services Team!
Hair's Inn offers education, team support, medical benefits, life insurance, paid time off, and a home for you to thrive. If this sounds like a perfect fit for you, "welcome to our family!"
COMMUNITY INVOLVEMENT
We love our Almaden Valley community, and always strive to give back as much as we receive. We are dedicated to serving our community at every opportunity.
During the COVID-19 pandemic, we chose to offer free haircuts when we were limited to working only outdoors. We will always be here for you, in good times and bad.
We offer our employees an opportunity to be a part of something more. Choosing Hair's Inn is a choice to give back and give thanks for all of our many blessings.
COMPANIES THAT CARE
We choose our product lines carefully. We prefer to align with companies that are making strides every day to serve the world in different, innovative ways.
From Bare Minerals, and their commitment not just to clean, cruelty-free skincare, but also to supporting women's empowerment through their Power of Good Fund, to LOMA, a company committed to sustainable and clean manufacturing for their naturally inspired, organically infused hair and skin care, we choose our offerings with care and consideration.
Our employees are empowered by the products we choose and can recommend and prescribe with confidence, knowing that their guests are investing in only the highest quality, charitable organizations in the industry.
POSITIVE WORK ENVIRONMENT
We at Hair's Inn are dedicated to providing a positive, supportive environment where our employees can truly thrive. We are committed to your growth, not just professionally but also personally.
While it is our constant commitment to provide a space for our guests to feel confident and comfortable in their own skin, our team is our heartbeat. We work every day to serve our team, through support, education, opportunity and growth strategies to become their very best. We aim for our team to feel "Be-you-tiful" every day, just like our guests!
A dedicated management and support team who are truly committed to your growth.
Associate Program - the cosmetologist's masters program! Learn from our talented mentors how to truly and organically succeed in the beauty industry.
Paid time off and flexible schedule options - we know you love what you do, but we also believe in a work-life balance!
Life insurance, medical, and dental insurance - we help you take care of yourself so that you can take the greatest care with your guests.
Continuing education - because we know that this industry grows quickly, we make sure to grow with it and continue to learn, no matter how many years we've been working professionally in the industry.
Find a true home and grow with us. Apply today to join the Hair's Inn family.